Creating an app for The Big Issue is one of the ideas developed, after the research, to reach and engage a younger target.
THE BIG ISSUE GAME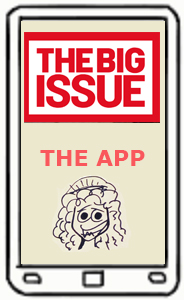 POSSIBLE REWARD POINTS SCHEMA
How to get points:
-
Buy the magazine in the street
- a #code needs to be put inside each magazine - you write the code in the app and get points.
-
Refer a friend
- if you tell a friend to register to the app he and you get points (he needs to put your player number in, during the registration).
-
Read online the article of the week
- answer in the app to some questions that every week will change and be related to the article of the week. If the answers are right you get points.
-
Friendly buy
- tell a friend to buy a copy and share the #code. You both get points.
-
Promote an event
- a contest or other at your school, workplace to let people know about The Big Issue or homelessness. You get lots of points.
What to get with points:
- If TBI establishes connections with famous people (singers, youtubers, sportives…) they could donate some of their time, or tickets for their concerts or performances.
A prise may be : - Meet * for a coffee or else.
- Shops may donate objects to the charity like: a phone, sports clothing or equipment, a virtual game, musical instruments, music/game CDs, books, an article about you on the magazine, …