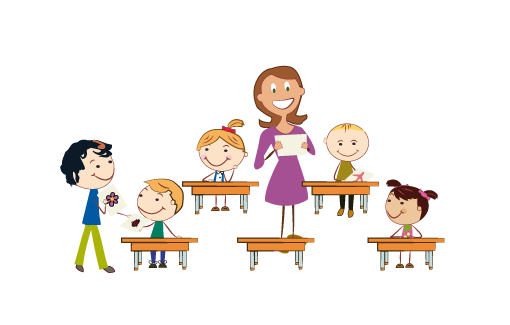 'One winter afternoon at school there was still an hour left to go out. It was almost getting dark when Biagio started going around the classroom and teasing his classmates. All the children, now a little tired, began to respond to Biagio's spite and shout as they got up from the desks.
-Stop, all seated! the teacher said.
But no one listened to her, including Ricky who was second to none when it came to jokes. It was then that he came up with an idea as fast as lightning.
He ran to his desk, took out everything he needed and quietly began to draw. Very quickly he drew small planes, flowers, ladybugs, butterflies, dolls ... with felt-tip pens of all colors, he cut them out a bit as best he could.
Then he got up and with his best smile began to distribute them one by one to all his vociferous companions, and even to the teacher. As if by magic, everybody stopped, fell silent, as if a magical powder had descended on the classroom to block the chaos and make each person find their rightful place in the world. Wonderful!
Ricky looked at his entire class in peace and felt great joy. Too good! His friends were fine and he was fine too! -Next time, he thought, I'll start hugging everyone as I used to when I was a child, or dance, or play a piece of music with the harmonica!'